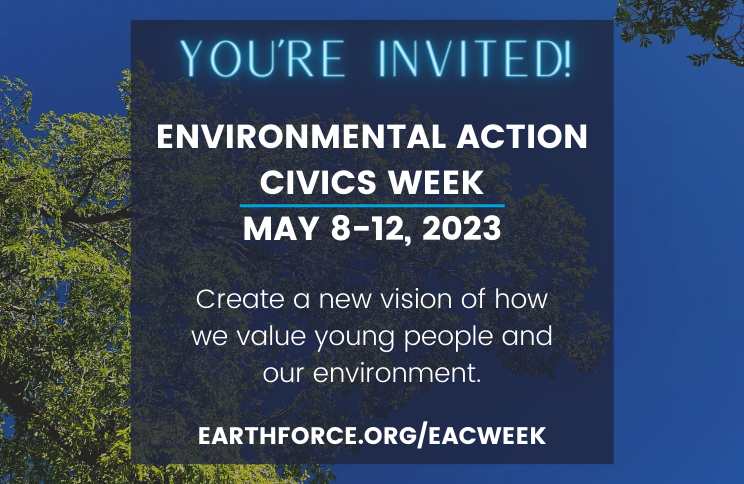 We are excited to announce the first ever Environmental Action Civics Week! Join in May 8-12, 2023 for thoughtful discussions, student civic action presentations, and inspiring educator stories. Grab your free ticket at earthforce.org/eacweek! 
Environmental Action Civics Week is an elevation of young people who are civically involved in environmental issues, a celebration of the adults supporting them, and a convening of people changing the future. Engage in real-time with young people, educators, and organizations to learn how Environmental Action Civics can help your community.
From May 8-to May 12, pop in daily for events that showcase Environmental Action Civics! Tune in live each morning on social media to join a discussion or grab a ticket to one of the showcases of student action. 
EVENTS:
Monday, May 8: Women Funders in Environmental Action Civics
10am EST: Instagram Live!
1pm EST: A Panel Discussion Hosted by Earth Force with the Bezos Family Foundation
Tuesday, May 9: RISE Challenge Colorado Summit
Wednesday, May 10: Stories of Community Change
10am EST: Facebook Live!
1pm EST:

A showcase of how Environmental Action Civics has helped make meaningful, sustainable and equitable changes in local communities

5pm EST:

Watch a youth panel talk about how young people can use Environmental Action Civics to create youth-adult partnerships, talk to decision makers, and create systemic solutions to local issues.
Thursday, May 11: Caring for Our Watersheds Chesapeake Bay Finals
Friday, May 12: Celebrating a Week of Environmental Action Civics
1pm EST: Reflect on Environmental Action Civics Week 2023 and meet our team!