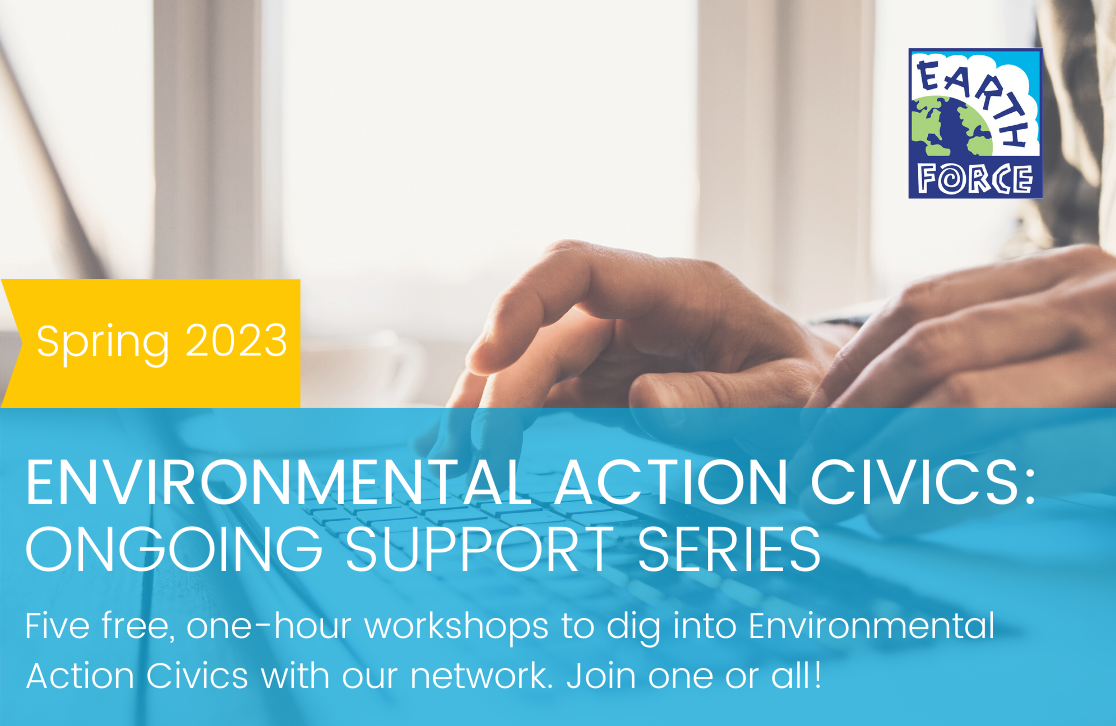 Digging into Environmental Action Civics? Join Earth Force this spring – we're offering five (free!) support sessions, each focusing on a different topic. Join us for Q&A, problem-solving, and camaraderie. Open to both new and experienced Earth Force practitioners. Attend one or all!
Educators participating in the RISE Challenge or Caring for Our Watersheds are highly encouraged to attend.
Tuesday 1/3, 2023: Step 0 and Step 1: Where do I begin? We will talk about how to conduct multiple types of student-led inventories and how to share decision-making power with students while meeting your scope and sequences. Gain access to resources you can implement immediately!
Tuesday 2/7, 2023: Step 2: How do we decide on the "best" issue to focus on and have it be student led? Join us to learn more about facilitating criteria-based decision making, a tool to build consensus and democratic decision making.
Tuesday 3/7, 2023: Step 3: How can we facilitate student-led policy and practice in the community? Join us to learn about how effective community and stakeholder engagement is critical for an impactful civic action project. Get tips to connect with resource professionals and community members.
Tuesday 4/4, 2023: Step 4 and 5: How can students create a foolproof action plan? Join us to learn about student-led action planning that leads to students selecting the "best" solution democratically and how to do contingency planning in student committees.
Tuesday 5/2, 2023: Step 6: How can students share their action stories? Learn how to help prepare your students to present their action story at a summit, competing in a Challenge, or advocating to decision makers. An excellent action story can help make your students' action project a success.